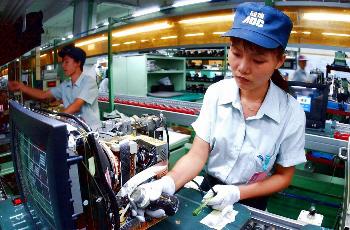 From the Canton Fair in October, it was learned that the performance of Chinese household electrical appliance companies on exports was far from the outside world's imagination. In particular, some of the major brands of home appliance companies have already shown the characteristics of brand concentration in terms of exports.
In the first three quarters of this year, Gree and Chigo air-conditioning exports both achieved a 20% increase, and Oaks and TCL air-conditioning exports also achieved double-digit growth. His performance has also been prominent in Hisense, Hisense's smart product strategy has not only increased the export of black power, but also has exported its own brand of white goods such as air conditioners and refrigerators to some of its emerging markets. Haier's international brand image is even more prominent. Its ice-washing scale is not only the world's number one advantage. From the perspective of the exhibition's display strength, Haier's product industrial design reflects the world's leading level.
Midea's air-conditioner exports have fallen year-on-year, but they have remained at the top of the scale. However, the comprehensive competitiveness of Midea's product lineup and outstanding integration in exports is unmatched by other SMEs. An air-conditioning company revealed that Midea and Gree started to increase product structure and price increase measures on exports last year, and some low-end customers turned to air-conditioning companies in the second and third camps. However, this shows that large companies have a clear transformational attitude in exports, have stronger anti-risk capabilities, and have a comprehensive competitive advantage. According to the head of Gree's overseas market, the company's export to Gree's own brand has increased to 30%.
Wang Lei, deputy director of the China Household Electrical Appliances Association, believes that the rapid transformation and upgrading of large enterprises in exports also makes the current domestic appliance exports show the characteristics of brand concentration.
Although the scale is far from the big ones, some small and medium-sized brands have maintained a relatively stable overall export this year. Wang Ping, director of foreign trade of Flying Dragon Group, stated to China National Grid that the first nine months of this year, Feilong's export value achieved 50 million US dollars, of which washing machine exports increased by 20 %, exports of freezer increased by 35%. Feilong's advantages are concentrated in the Middle East and South America. Wang Ping introduced that Dragon will open up the European market this year. The market is still sensitive to price, and there is room for the dragon to obtain some orders.
Another Arkema, a refrigerator and refrigerator exporter, also lived up to this year's foreign trade. Zhu Yinbo, deputy general manager of Qingdao Aucma Import and Export Co., Ltd., stated to the China State Grid that by the end of September, Aucma's export volume and export volume had remained at the same level as last year. The Middle East market was affected by the political situation, but the growth in the Central Asian markets such as Japan and Russia was relatively large. It is expected that the company's annual exports will increase slightly.
Zhu Yinbo said that most companies have adopted export strategies to protect profits this year, specifically by improving their product mix, striving for consensus with customers on prices and giving up some markets with low profit margins. According to her, Aucma had previously exported to the North American market, but due to the lower profit margin in this market, it has now abandoned the North American market, but Aucma tried to do its own brand layout in some emerging markets, such as building a factory in Iraq, reducing more Link to retain profit space.
If domestic white electricity exports are fairly stable, exports of kitchen and toilet companies are a bit bleak. Mr. Hu Yueyong, market manager of Zhongshan Baide kitchen and kitchen, said to China National Grid that Patek's current export value exceeded 40 million U.S. dollars, which is the same as last year. However, a large number of small and medium-sized kitchen and toilet enterprises in Zhongshan are not optimistic about their exports. According to Hu Yueyong, Zhongshan kitchen and toilet enterprises have fallen in this year's foreign trade colds. The main reason is that the cost has soared to allow these export-oriented enterprises to use low prices. Can not afford, a large number of orders lost, becoming the first fall of the enterprise, after all, the overall lack of self-discipline kitchen exports, anti-risk ability is too weak.
After further understanding of the China National Grid, it was discovered that low-cost vicious competition still existed in the export of enterprises, and it was prominent among small enterprises. These enterprises had poor anti-risk capabilities and they hoped to make funds flow faster, but in the long run, Low-end exports do not help companies continue to profit. Most corporate attitudes are basically in favor of ways to increase export profits through the transformation and upgrading of export structures and the adjustment of export market layout.
China National Grid Industry Center analysis of customs statistics shows that in the first eight months of this year, exports of refrigerators and washing machines rose by 3.82% and 12.04% year-on-year respectively, and air-conditioner exports fell by 4.00% year-on-year, but ice, washing, and air were separately exported. The increase of 9.88%, 22.51% and 1.14% also illustrates the benefits of the transformation and upgrading of export products.
For the future export situation, companies generally believe that the market just needs to exist, and the overall export market will bottom out at the end of this year and early next year. However, orders currently in the hands of companies are still mostly short-term orders, which indicates that foreign businessmen are still cautious about the situation.
However, judging from the overall display strength of domestic home appliance companies in this session of the Canton Fair, China's household electrical appliance industry has become a global leader, and Zheng Zuyi, chairman of Zhi Gao, expressed to China National Grid that "Chinese companies have shown a good year at the Canton Fair. In one year, the progress in product specifications, quality, scale, etc. is very obvious, reflecting the comprehensive strength of China's home appliance industry in the world, which is also a manifestation of China's overall national strength."
Portable charger which is also named Power Bank or portable phone charger is popular for charging smart phones and mobile tablet devices. Our portable phone battery charger is compatible with most of the mobile phones in the market . there is no need to worry compatibility if you want to use by yourself or send as a gift .
Provide best power bank.
Perfect compatibility
Our power bank is compatible with most of the mobile phones in the market .
There is no need to worry compatibility if you want to use by yourself or send the Powerbank Phone Charger as a gift.
Share together , more friend ship
Ultra slim and easy to carry
Li-Polymer with LED Indicator
Li-polymer battery
Customized the shape
Ultra thin power bank adopts Li-polymer cell inside
High safety performance
Li-polymer cell will not explode
The portable battery charger is designed more friendship , and is Built-in intelligent protect chip to prevent overcharge . we aim to provide the best portable charger for customers .
The advantages of this produce as following :
Ultra thin and easy to carry
High capacity
Dual input & dual output
Dual output more convenient
Both apple and android user can charge and recharge with either micro cable or Lightning Cable .
Power Bank
Power Bank, Power Bank Charger, Powerbank Phone Charger, Power Bank Battery, Portable Battery, Phone External Battery
Hebei Baisiwei Import&Export Trade Co., LTD. , https://www.baisiweicable.com