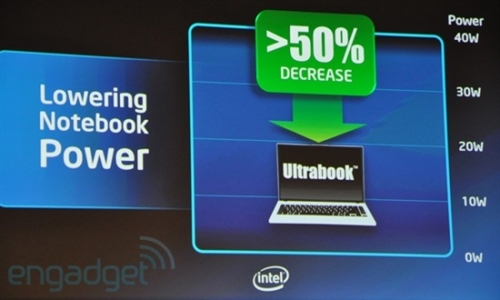 According to foreign media reports, at the Computex conference in Taipei International Computer Show on Tuesday, Intel Corporation announced the Ultrabook series of notebooks. The new device combines the thin and light design of the tablet PC with a faster processor.
Sean Maloney, Intel's executive vice president, said that the introduction of the new notebook Ultrabook is not an admission that the company's competition in the tablet PC market will fail. Mooly Eden, Intel's vice president and PC client general manager, said: "While we are late, many tablets do not have Intel chips installed. However, our efforts will pay off."
The thickness of the Ultrabooks will be less than 20mm (0.8 inches), and Intel is working with manufacturers to launch the first products before the end of the holiday shopping season, priced below $1,000. Asus also said on Tuesday that its UX21 Ultrabook will be available before the end of this year.
The subsequent Ultrabook will use the Ivy Bridge processor introduced next year and the Haswell processor introduced in 2013. Although the first Ultrabooks are not very different from the current laptop specifications, if the low-power Haswell chips are used, the products can be designed to be thinner and extend battery life.
Intel has high hopes for Ultrabook: It is expected that these products will occupy 40% of the consumer notebook market by the end of 2012.
However, the company also tried to occupy a larger share in the tablet market. Currently, most of these devices use chips designed by Intel's rival ARM Holdings, because ARM's design is considered more power-efficient. Unlike Intel, ARM itself does not produce chips, but rather provides processor core design licenses for
Other
manufacturers.
ARM may also pose a threat to Intel's core business PC market. ARM predicts Monday that more than half of tablet, mini-notebook and other mobile PCs will use its designed processors by 2015.
In an interview with reporters, Eden stressed that the launch of Ultrabook is not Intel's recognition of failure in the tablet PC market, and pointed out that the company is working hard to develop its own processor for low-power devices such as tablet PCs. In April of this year, Intel announced the new Atom processor Oak Trail, which Intel expects to use for 35 tablets this year.
Eden said: "We always take a serious view of competition," he believes that Intel will eventually win because the company has more advanced processors. "ARM's technology will try to enter the laptop market. We will strive to break into their territory. Who is best who wins."
Erik Reid, general manager of Intel's mobile platform division, said that Intel's announcement of Ultrabook does not mean that attention has shifted from netbooks to other places. He said: "We absolutely trust the Internet," Intel will announce new netbook technology on Wednesday. In addition, Intel also hopes to reduce the price of netbooks to US$199.
Hygea Led Lighting Photoelectric Co., Ltd. , http://www.gd-lamps.com