Model NO.:

lc118

Application:

Indoor, Computer, Advertising, Outdoor, Surveillance, Big-Screen Project, Taxi, Graphic Design, Mobile Phone

Feature:

Touch Display, LED Backlight Display, With Remote Control, Support TV Function, 3D Display

Type:

TFT

Response Time:

3ms

Interface Type:

HDMI

Materials:

Aluminum Frame,Glass Cover,LED Backlit

Trademark:

glorysigns

HS Code:

9405600000
Screen Size:

26"

Aspect ratio:

16:9

Optimum Resolution:

1920x1080

Widescreen:

Widescreen

3D:

3D

Color of Frame:

Silvery, Black, White

Size:

42′′ as Regular

Origin:

China
42'' touch convenience LCD displa advertising player
Key Function
1. Upgrade contents of the memory card (or Built-in memory) by simply inserting an USB flash drive
2. Timer function: The player turns on/off at the same time everyday according to your setting
3. Touch screen, network (3G, RJ45) optional
Main Function
1. Play MP4 advertising video, MP3 music and digital photos; Built-in 22 inch TFT LCD screen (LCD ratio: 16: 10), with tempered glass or acrylic board protection; Easy-to-install on supermarket shelves, tabletop, showcase and lift, etc.;
2. Play from:
-Compact Flash card (CF card)/ SD/ MMC
--USB flash drive
--Built-in memory
3. Upgrade contents of the memory card (or built-in memory) by simply inserting an USB flash drive, no need to take out of the memory card
4. Timer function: The player powers on / off automatically everyday at the time pre-set; It can also automatically play and non-stop replay within the pre-set time frame
5. No DVD style mechanical movement, hence more durable and suitable for long-hour advertising playing
6. Function keys on the players, they can be turned on/off
7. Theft-protection device effectively prevent the player and CF card from being stolen in public place and protect the power cord being pull out easily
8. Audio output: 2 built-in high quality stereo speakers
9. With professional easy-to-use stand set; Hang on wall or stand on table
Technical Specifications
1. TFT LCD screen:
Size: 22 inch
Resolution: 1920 * 1080 Brightness: 450CD/m2
View angle: Left / right 60° , up /down 65°
Contrast: 1000: 1
2. Compatible file formats:
Picture formats: BMP/JPG/GIF
Audio formats: MP3/WMA
Video formats: MPEG1(VCD), MPEG2(DVD), MPEG4
3. Play from:
Memory flash: CF card/ SD/ MMC
Built-in Flash memory: (optional)
USB drive: High speed USB 2.0 (Host & OTG)
4. Output:
Built-in loudspeaker power: 2 x 5W
5. Others:
Casing material: Metal
Installation: Shelf/wall-mounted or to be installed on desktop
Power supply: DC12V, 48W
Dimension(mm): 630 (L) X 340(W) X 65(H)
Net weight: APP. 10kg
Working temperature: 0° C - 40° C
Working humidity: 20% - 80%
Storage temperature: -20° C-60° C
Storage humidity: 10%-95%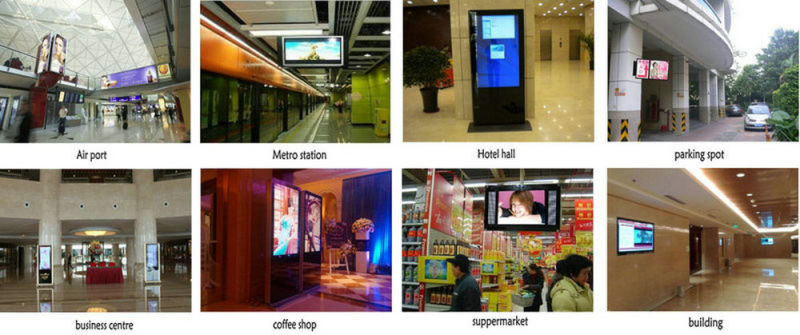 Glory  Standard Specification
Enclosure
Stylish 1.5mm cold rolled steel enclosure
Lockable computer & monitor compartments
Ability to secure to floor
standing Display
led screen 
Resolution
1920*1080
Contrast Ratio
4000:1
Colour Resolution
16.7M
Brightness
500cd/m 2
DCÂ Adapter
DC12VÂ 5A
Touch Technology (optional)
Surface Acoustic Wave Touch Technology OR
Infrared Touch Technology (Multi-Touch) 
Audio | Speakers
2 x 5W Speakers 
1 x 30W Amp
PC (Optional Upgrade)
Intel i3-3220 processor,3.3GHz CPU, dual core
2Gig DDR3 RAM
320Gig HDD
4 onboard USB ports
1 serial onboard ports
10/100Mbps Ethernet network
AC97 Audio (1 x input, 1 x output)
Onboard graphics card
OSÂ (Optional)
Windows XP
Windows 7
Windows Embedded
Linux Ubuntu
Ports | Slots | Cables
Standard Power Cable
Kiosk Port Panel: Power Input | Power switch | PC switch | USB | LAN | Volume Control
Power
International 90 – 260 AC Power
Dimension (WxDxH)
800*68*1850mm
Weight
About 75Kgs
Operating Temp | Humidity
Temperature:-10 ° C ~ +60 ° C | Humidity:10% ~ 90%
Optional Components
Mag Card Reader
Webcam
Bluetooth
Biometric Scanner
Intrusion Alarm
Power Surge Protector
RFIDÂ Reader
Wireless
Personalised Colours & Branding
Omni Scanner
3G/GPRSÂ Modem


Colour | Finish
Standard Colour: Silver
Standard Finish: Powder Coat or Brushed Metal
Optional Colour: All Colors Available 
Optional Graphic Wrap
* Specifications are subject to change
* Please contact a Laxton Consultant for customisation
Capacitors, commonly referred to as capacitors, are capacitors, expressed in the letter C.Definition 1: a capacitor, as the name implies, is a "charging vessel", a device that holds charge.Capacitor.Capacitors are one of the most widely used electronic components in electronic equipment. They are widely used in the fields of interleaving, coupling, bypass, filtering, tuning circuit, energy conversion and control.Definition 2: a capacitor consisting of any two conductors (including wires) that are insulated from each other and are very close together.
Electronic Components Capacitor
Electronic Components Capacitors,High Voltage Capacitors,Low Frequency Capacitor,Water Pump Capacitor
YANGZHOU POSITIONING TECH CO., LTD , http://www.yzpstcc.com