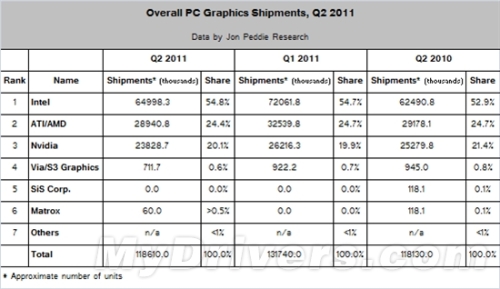 According to the statistical report of Jon Peddie Research (JPR), a market research agency, earlier this month, Intel's market share in the graphics market in the second quarter of 2011 saw rapid growth, leading to a collective decline in AMD and NVIDIA. However, recently, JPR made statistical data. The amendment was mainly to adjust the shipment of Intel's desktop graphics cards. As a result, the three companies' shares were basically unchanged.
The statistical data of market adjustment agencies are generally provided by manufacturers, and adjustments are commonplace. This time, Intel's graphics card shipment data was revised downwards by 17.6 million, and the total market size was changed to 118.61 million. Compared with 131.74 million in the first quarter, it was significantly reduced by 11.7% compared to the same period of last year. The 11.813 million were slightly increased by 0.4%, which is in line with the traditional seasonal pattern.
After adjustments, Intel's market share is now 54.8%, not as much as 60% as it was previously, and only 0.1 and 1.9 percentage points higher than the same period of the previous year. AMD and NVIDIA accounted for 24.4% and 20.1%, respectively, and they lost 0.3 and 1.3% respectively.
Compared with the first quarter, the graphics output of the three giants had a decline of more than 10%, while the same period last year, Intel only rose by 4.0%, AMD, NVIDIA, respectively, lost 0.8%, 5.9%.
Interestingly, Matrox seems to have some signs of recovery, with its share in the first quarter essentially zero and surpassing 0.5% in the second quarter.
JPR founder and boss Jon Peddie commented: "The revised Intel (unit shipment) data makes the second quarter look very difficult, but also shows that AMD's graphics products are still very competitive, especially in the face of For Intel Sandy Bridge."
Huerler Lighting Equipment Co., Ltd , http://www.sz-ledlights.com