Before and after the Spring Festival, many businesses introduced "clear sale" and "big sale" to attract consumers. Fuding City, Fujian Province, nodded with industrial and commercial consumption tips recently, the hidden hidden consumer electronics "traps", consumers in the purchase of these appliances should be cautious.

According to reports, there are three major pitfalls in delisting appliance sales.

Pitfall 1: The service point on the "three packs" card is invalid. The company's own after-sales service center tends to go empty when the company delists overnight, while the special maintenance service point also provides services based on the contract signed between the pre-delisting company and the local after-sales maintenance company. The delisting maintenance contract is natural. Termination, even if the delisted product is still in the "three guarantees" period, it will not be able to enjoy such "contracted" service points for free services.

Trap 2: No matching parts found. Water heaters, televisions, air conditioners, and other electrical parts are not universal in their versatility. Once the product is withdrawn from the market, it will not be able to find the necessary components.

Trap 3: Do not issue maintenance records. When a consumer asks for a maintenance voucher, the repairer often finds various reasons to avoid and reject it.

The person in charge of the Fuding Nodding Industry and Trade Institute stated that consumers can safeguard their legitimate rights and interests from five aspects when they encounter such matters.

1. According to the State's "Three Guarantees" Regulations, although certain brands of certain types of electrical appliances are no longer produced, as long as the production enterprises continue to operate, consumers may find quality problems in the "three guarantees" period if they find that they are Contact the manufacturer of the product or its designated special service point for repair.

2. According to the "Responsibility for Responsibility" principle stipulated in Article 35 of the Consumer Protection Law, regardless of whether or not the manufacturer of the delisting appliance continues to operate, the distributor shall assume the after-sales service responsibilities within the "three guarantees" period for delisting appliances.

Third, consumers should ask for and keep records of maintenance records. According to the relevant regulations of the State, if the repairs cannot be used normally during the two repairs within the warranty period, the business operator shall be responsible for replacement or return.

4. For the delisted appliances during the "three guarantees" period that cannot be maintained due to the lack of supporting parts and components, consumers have the right to request dealers to "replace old ones" (for discounted purchases of new aircraft) or directly provide corresponding compensation.

Fifth, when consumers purchase electrical appliances, they should rationally choose mainstream brands and powerful distributors, and deal with low-priced sales clearance appliances in a rational manner so as not to purchase appliances that will be withdrawn from the market.
Crawler Tractor for Agriculture:
Crawler tractor for agriculture can be widely used in agriculture, by installing the agricultural equiment, the farm tractor can be used for farm land cultivation, harvest and ridging. These Agriculture equipment crawler tractors we produced are domestic initiative and technology leading. The performance, such as hydraulic controlled differential - brake turn to technology, 360-degree steering wheel control and spin turn are our company`s unique advantages. In addition, our products also have the superiorities of triangular track drive, low grounding pressure and better paddy field performance. These products are of high efficiency, long operating life. and low fuel consumption. Our crawler tractors are easy switching between hydraulic infinitely variable speed and mechanical transmission.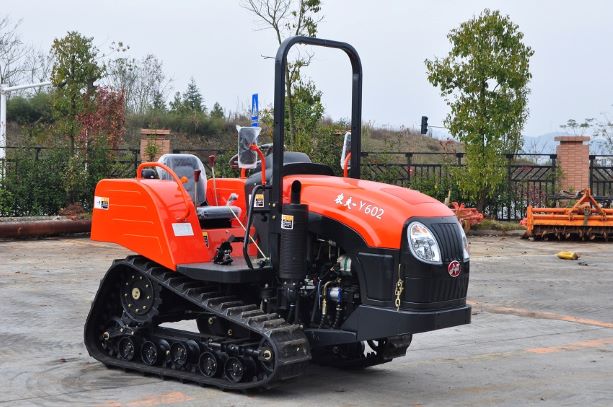 Crawler Tractor for Agriculture Technical Parameters:
1. Mini ground clearance: 400mm
2. Engine form: direct injection, vertical, water-cooled, four-stroke
3. Engine Fuel: diesel
4. Engine rated power: 50-66Kw
5. Working device lifter type: semi-split
Typical Applications: can be worked in paddy field, dry land, hilly ground or greenhouse.
If you have any questions, please contact us directly. Crawler tractor for agriculture are produced by Hunan Nongfu with high quality and good appearance.
welcome you can visit our factory for inquiry, please send mail directly to us.
Crawler Tractor for Agriculture
Agricultural Crawler Tractor, Land Cultivation Tractor, Mini farm Tractor, Agricultural Equipment
Hunan NongFu Machinery&Electronic.Co., Ltd. , https://www.nfagmachine.com