China's panel import tariffs are brewing and improving, and the policy effect is more than one stone: it will not only create room for growth for BOE and TCL's high generation projects, but will also force Korea and Taiwan's regional industries to further shift to mainland China. However, it may also cause dissatisfaction: First, during the transitional period, the import costs of complete machine manufacturers will increase. Second, when BOE and TCL's high-generation projects are in huge losses, the favorable policy may leave an impression of trade protectionism.

Panel import tariffs or increase the domestic panel industry greet good

Wang Zhen [The relevant government departments may even announce the new tariff policy for 2013 in the third or fourth quarter of 2012, and the import tariff on LCD panels is not excluded from 5% to 8% to 10%]

A senior person in the flat panel display industry recently told a reporter from the "First Financial Daily" that the import tariffs on Chinese LCD panels will increase from 3% to 5% this year, but it has not yet been formally announced.

Second quarter or cancellation of preferential tariffs

Li Qiwei, deputy general manager of AVC flat panel display research, also learned of this news.

He told this reporter that China has been imposing a 5% tariff on imported LCD panels, and panels with 32 inches and above are subject to a 3% preferential tariff.

With the successive launch of several 6-generation and 8.5-generation LCD panel lines such as BOE, China Star Optoelectronics, and Panda last year, 32-inch panels have now been mass-produced, and the local market can already replace many. In the first quarter of this year, BOE and Huaxing will also produce 46-inch panels.

Li Qiuwei expects that in the second quarter of this year, China will cancel preferential tariffs on imports of LCD panels, and all imported panels will be taxed at 5%. The above-mentioned veterans told the newspaper that the approval of relevant departments may be considering when to announce the timing.

Li Qiuwei even predicted that if the domestic LCD panel project production volume goes smoothly, the relevant government departments may even announce the new tariff policy for 2013 in the third or fourth quarter of 2012, and the tariff of imported LCD panels will not be further increased from 5% to 8%. ~10%.

He said that if implemented, many purchase orders for China Color TV's complete machine factory will be shifted from South Korea and China's Taiwan region to mainland China.

Support the local panel industry?

The increase in the import tariffs on panel imports has been reported for a year. Why did it fail to settle before the beginning of this year? Professor Gu Zhihua, director of the Flat Panel Display Engineering Research Center at Fudan University, said that the domestic LCD panel industry is in its infancy in two or three years and needs policies to help overcome the difficulties.

After the domestic high-generation panel line was built, it suffered from depreciation and external environment, and all losses. Gu Zhihua spoke two reasons: First, he was in a period of climbing, and the yield rate and operating rate were insufficient; second, the raw material supporting system had yet to be improved.

If all color power plants buy foreign panels, building the domestic panel industry will lose its meaning. Gu Zhihua said that raising tariffs will stimulate domestic color power plants to purchase domestic panels.

Li Qiuwei believes that after Samsung and LG's high-generation LCD panel lines are depreciated in 2012, they may sell panels at low prices. China's appropriate increase in import panel tariffs can prevent foreign panels from competing too low prices.

One of the senior executives of China Star Optoelectronics frankly stated that if the panel import tariff is raised from 3% to 5%, if Huaxing sells panels for 2% of the total revenue, Huaxing will not "eat alone" but will choose the color TV set. Machine manufacturers share, because the global LCD panel industry is currently oversupply.

"We cannot rely entirely on policy," he said. However, the new policy did increase the negotiating bargaining power of the company's panel sales.

Cai Power Plant Affected

But can domestic panels meet supply?

Gu Zhihua said that at present, China produces more than 70 million LCD TVs a year, including more than 30 million domestic LCD TVs. There are more than 70 million LCD panels in China for one year. The output of BOE, Huaxing Optoelectronics, Panda Co., Ltd. for 6 generations and more than 6 generations is more than 30 million pieces. The insufficiency still needs to be imported.

Therefore, Gu Zhihua believes that to support the local panel industry, we must also take into account the interests of the color TV plant.

Yang Dongwen, vice president of Skyworth Group and president of the color TV business division, told the newspaper that the company's LCD modules currently come from two sources: one is a direct-imported LCD module with a tariff of 5%; the other is an import panel with a tariff of 3%. .

"If the panel tariff is mentioned as 5% from 3%, the impact will not be great." Yang Dongwen said that on the one hand, Chimei, AUO and other LCD panel makers will absorb part of the tariff, and on the other hand, Skyworth will also digest its own LCD module. Partially affected.

Lin Lin, a researcher at Tuoba Industry Research Institute, estimated that in January this year, 32-inch LCD panels cost US$127 and 42-inch US$210. Based on the RMB exchange rate against the U.S. dollar and a 2% increase in tariff, two panel sizes will be used. Increased by 16.3 yuan and 26.9 yuan respectively. Among them, the impact of ordinary models is not significant, but the impact of high-end panel prices such as 3D is relatively large.

Make money by mining? Local panel companies must be strong

Wang Zhen's import tariff on panels increased by 2%, which has little effect on the entire industry. However, for the domestic panel industry, it is a big advantage, which gives them the best opportunity for transition.

This even stimulated the landing of new local projects. Before the Spring Festival, the industry reported that the 8.5-generation project of BOE Hefei has been approved by relevant departments.

An insider of BOE said that the global panel industry is so fiercely competitive that it is difficult to squeeze into the top three to the top five and it is difficult to establish a long-term foothold. BOE is catching up with its advanced production capacity. At present, it has 4.5th generation, 5th generation, 6th generation, and 8.5th generation. If an 8.5th generation is added, its production capacity will be equal to that of Sharp, which is fifth in the global panel industry. .

According to industry rumors, pandas are also brewing an extra high-generation panel line in Nanjing.

In addition to the deregulation of the local panel industry, increasing tariffs will also force foreign panel makers to accelerate the pace of building factories in China. Some suspended projects have shown signs of loosening. For example, Samsung plans to upgrade the Suzhou 7.5-generation line to the 8.5-generation line and is waiting for government approval. Although it has not been officially confirmed by Samsung (China), it has already been reported in the industry.

Analysts believe that Samsung's high-generation panel projects in Suzhou and LGD in Guangzhou that have already obtained the "grand card" from the Chinese government have been unresolved and long-delayed. The new tariff policy will prompt Samsung and LG to make a decision as soon as possible.

Therefore, in the near future, it is believed that the Chinese panel industry will experience the prosperity of the CPT industry that year.

However, the reality is still cruel. BOE once had a loss of 3 billion to 3.2 billion yuan in 2011. This week, it has dramatically changed from a pre-bome profit of 300 million to 500 million yuan, mainly because the equity transfer of Ordos coal project in the fourth quarter of last year is expected to generate a gain of 3.6 billion yuan. BOE relies on selling coal to make its achievements "changing face."

Similarly, Huaxing Optoelectronics, which is controlled by TCL, received a large amount of subsidies from the Shenzhen government. TCL also acquired a prospecting right for a metal ore project in Xinjiang last year.

The 8.5-generation line of BOE and China Star Optoelectronics Co., Ltd. produced at the end of last year will be mass-produced this year. The investment of an 8.5-generation line is about 28 billion yuan, excluding 8 billion yuan in plant construction costs, 20 billion yuan in equipment depreciation in five years, and the depreciation expense in one year is as high as 4 billion yuan. There is not enough sales to support this. Depreciation charges, so the BOE insider bluntly stated that "loss is depreciation at a loss."

The government can certainly provide support by allocating some resources projects and giving subsidies. However, the domestic panel must get enough orders, the key is to put the product quality and stability up, so that they have "hematopoietic function", rather than blindly rely on the government "blood".

Imagine that once the projects of Samsung Suzhou, LGD Guangzhou, and Youda Kunshan landed, foreign-funded panels crossed tariff barriers, and domestic-funded panels would face fiercer competition.

Panel 2012: Overcast Spring

Liu Jialian, a panel giant with losses in multiple seasons, can we welcome the spring in 2012?

iSuppli senior analyst Gu Wenjun looks forward to the second half of the year. He said that last year the industry was abnormal, the off-season was not faded, and the busy season was not prosperous. In the first half of this year, it may still be bleak, but there may be a turn for the better in the second half of the year. The reason is that as the economic situation improves in the second half of the year and the demand in the terminal market increases, the panel industry may rebound.

It's really a mournful moment. At the end of last month, Samsung Electronics released the financial report for the fourth quarter of fiscal year 2011, showing that the business unit had operating losses of 220 billion won last year. Its operating profit in the previous fiscal year was 100 billion won.

The biggest rival LGD (LG Display) is not smooth. Due to the slowdown in demand for large-screen TVs caused by economic slowdown, the company recorded a business loss of 144.8 billion won in the fourth quarter of last year and a net loss of 777.9 billion won in fiscal 2011, compared with 1.16 trillion won in the previous fiscal year. It has planned to reduce its spending by 15% this year, while also underestimating the 2012 European and American markets.

The giant Sharp is also trapped, and the 10th-generation line has repeatedly reported suspension of production; Panasonic plans to stop production of plasma panels at the third plant in Amagasaki by the end of March this year, and sells an LCD panel plant in Chiba Prefecture; Sony sells a joint venture with Samsung. S-LCD panel shares with Toshiba, Hitachi Baotuan heating.

Taiwanese duo suffers. AUO's net loss reached NT$15.796 billion in the third quarter of last year, and Chi Mei's net loss was NT$17.26 billion. The latter's chairman and deputy chairman both resigned. Chimei said that due to the oversupply of TV and computer panels, the company's capital expenditure this year will be reduced by 40%.

The panel giant's journey to China is also lush. Although Samsung intends to upgrade the Suzhou LCD panel plant from 7.5 generations to 8.5 generations, it has not yet been approved by the Chinese authorities; the LGD Guangzhou project has not seen any action so far. In December last year, LG and JV's joint venture, Le Jie, went bankrupt. LGD's Nanjing plant caused dissatisfaction with employees due to the year-end bonus issue; AUO Kunshan's 8.5-generation project also stagnated.

Gu Wenjun said that due to the popularity of tablet PCs and smart phones, the market was mainly concentrated on small and medium sized screens last year, and the overall big screen was in the doldrums. However, smart TVs and other products are expected to have a good market this year, but it is hard to say whether panel companies can lose profits.

According to the DisplaySearch report, TV shipments in 2012 are expected to increase by 2% to 254 million units. Among them, the development of large-size TV is strong, 40-inch and larger TVs are expected to grow by 12%, and TVs under 40-inch are down by 3%; while AMOLED panels in the small and medium screen market are expected to ship more than 10 million, including TV shipments. More than 100,000 units.

Li Yaqin, research director of Group Intelligence Consulting, also said that large-size panel inventory is relatively healthy and even tight. If post-holiday replenishment demand is strong, prices may rebound at the end of the first quarter of 2012.

However, JP Morgan's report shows that TV and computer sales during the Chinese New Year are worse than expected and disappointing.

The overcapacity is still the main contradiction through the panel industry in 2012. DisplaySearch said that the average capacity utilization rate of panel makers has been hovering around 70% since the second quarter of last year, and is expected to increase to 80% in the same period this year, and is expected to reach 85% in the second half of the year.

Li Yaqin reminded that because overall demand has not been restored, production expansion still needs to be cautious. DisplaySearch stressed that the factors affecting the balance between supply and demand of the panel this year are, first and foremost, the trend and timing of economic recovery. If prices increase in the second and third quarters of this year, the profitability of panel makers will have a chance to improve.

However, if the profit of panel makers does not improve, capital expenditures will remain cautious, which may defer the new wave of investment in the panel industry. It is unlikely that panel makers will return to their previous profit margins of up to two even by 2013. The number of scenery.
Juicers are machines that can quickly squeeze fruit and vegetable into juices. Juicers including Power Juicers, Slow Juicers and citrus juiers. The working principle of the juicer is to start the machine so that the motor drives the knife net to rotate at a high speed, pushing the fruits and vegetables from the feeding port to the knife net, and the spike of the knife net will cut the fruit and vegetables. Under the action of the centrifugal force, juicer produced by the high speed operation of the knife net, the pomace flies out of the knife net into the slag box, and the juice penetrates the knife net into the juice cup.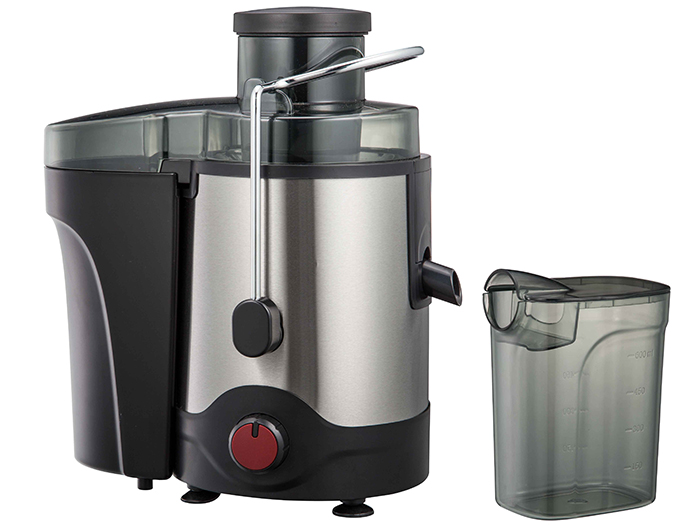 Juicers
Juicer Machine,Slow Juicer,Juice Extractor,Electric Juicers
Flying Electronic Co., Ltd , https://www.flyingelectronic.com