Cypress Semiconductor Corporation has announced that Lenovo, the world's leading PC supplier, has adopted Cypress's PRoC â"¢ -UI (programmable on-chip radio frequency-user interface) solution in its new wireless touch mouse SmartTouch N800. The PRoC-UI solution can support Windows 8 standard gestures and user-defined gestures with excellent touch performance to achieve commonly used functions, while having the industry's best wireless connectivity and microcontroller (MCU) functions. By integrating all the above functions on the same chip, not only the material cost is reduced, but also the circuit board space is saved, so that a smooth-looking mouse can be designed.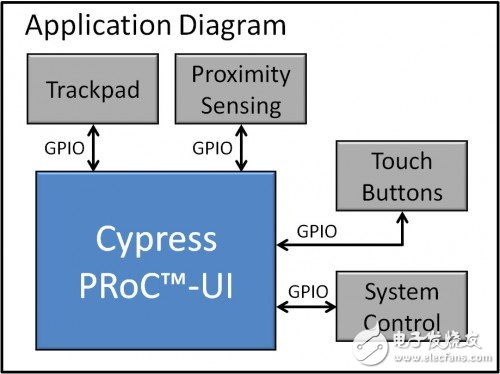 PRoC-UI introduces Cypress's industry-leading TrueTouch® capacitive touch technology to the Lenovo SmartTouch N800 wireless touch mouse, enabling simple and precise operation with one and two fingers. Based on Cypress's 2.4-GHz WirelessUSB ™ -NL radio frequency technology, PRoC-UI can ensure that it still performs well in the interference environment of other wireless devices or microwaves. The single-chip PRoC-UI solution simplifies the design of wireless touch products and shortens the time to market. It also helps reduce power consumption and extend battery life. For more information, please visit the following website: PRoC-UI.
Lenovo 's R & D Director Li Zhijie believes: "We want the SmartTouch N800 wireless touch mouse to have top touch performance. Cypress uses its industry-leading capacitive touch technology to help us achieve smooth Windows 8 touch gestures. PRoC-UI The combination of capacitive touch, wireless connectivity, and HID microcontroller features helped us streamline the design process so that we no longer have to deal with three chips from three different vendors. "
Jayant Somani, senior director of global marketing for Cypress 's data communications business, said, "Lenovo 's adoption of PRoC-UI as a respected leader in the PC industry is the best proof of its performance. SmartTouch N800 wireless touch mouse Demonstrates the value of PRoC-UI integration and how this solution simplifies design and shortens the time to market. "
Cypress's award-winning PRoC-UI device has an amazing -87 dBm receive sensitivity (at 1 Mbps). This enhanced sensitivity enables longer distance operation or transmission of signals at lower power. The device has extremely low operating and standby currents, making the battery life longer. It also has an on-chip analog-to-digital converter (ADC) for battery monitoring. It can maintain excellent performance in other 2.4-GHz interference environments such as WiFi, Bluetooth, cordless phones, and microwaves. PRoC-UI supports Cypress's patent-pending AgileHID â"¢ protocol, allowing existing WirelessUSB-NL customers to start designing quickly and effortlessly. Customers who already have WirelessUSB-NL designs can use the same transceiver for new PRoC-UI based products. PRoC-UI provides free software to customize terminal products.
About Lenovo
Lenovo (HKSE: 992, ADR: LNVGY) is a personal technology product company with a turnover of 34 billion US dollars. It is one of the world 's largest personal computer manufacturers and a new leader in PC + products. Lenovo customers are located in more than 160 countries around the world. With innovative products, efficient supply chain and strong strategic execution, Lenovo focuses on providing excellent personal computers and mobile Internet products to users around the world. The group is composed of Lenovo and the former IBM Personal Computer Division. It develops, manufactures and sells reliable, high-quality, safe and easy-to-use technology products and high-quality professional services around the world. The product line includes Think brand commercial personal computers and Idea brand consumer individuals. Computers, servers, workstations, and a series of mobile Internet terminals including tablets and smart phones. Lenovo is one of the Fortune Global 500, and the group has key R & D centers in Yamato, Japan, Beijing, Shanghai, Shenzhen, and Raleigh, North Carolina. For further information, please browse.
About Cypress
Cypress provides high-performance, mixed-signal, programmable solutions that can accelerate the time-to-market of customer products and provide outstanding system value. Cypress products include the flagship PSoC® 1, PSoC 3, PSoC 4 and PSoC 5 programmable system-on-chip family. Cypress is a global leader in capacitive user interface solutions. Its products include CapSense® for touch sensing, TrueTouch® for touch screens, and trackpad solutions for laptops, PCs, and peripherals. Cypress is a global leader in the field of USB controllers, and its products are mainly used to improve the connectivity and performance of many consumer and industrial products. In addition, Cypress is a leading global supplier of SRAM and non-volatile RAM memory. Cypress products are used in many fields, including consumer electronics, mobile phones, computing, data communications, automotive, industrial and military. Cypress shares are traded on the NASDAQ Global Select Market under the ticker symbol CY. For more details, please visit the Cypress website :.
We are manufacturer and exporter of Lithium Polymer Battery. Our Lipo Battery Cell factory is in Jiangxi Province, pack factory is in Dongguan, Guangdong and our office is in Shenzhen, Guangdong, China.
Please contact us if any needs for rechargeable batteries
Best Lipo Battery,Lipo Battery Case,Lipo Battery Charging
Ji'an Powercom New Energy Co., Ltd. , https://www.expowercome.com