Cree recently announced the launch of a fully silicon carbide 300A/1.2KV half-bridge module. This new module is available in an industry-standard 62mm package that reduces energy consumption by up to five times compared to equivalent silicon-based solutions during switching. This current highest level of efficiency has enabled all silicon carbide high power converters to reach megawatt levels for the first time, continuing to expand Cree's leadership in the use of silicon carbide chip technology in high current power modules. Cree Silicon Carbide technology continues to help achieve smaller size, lighter weight, higher efficiency, lower cost power systems.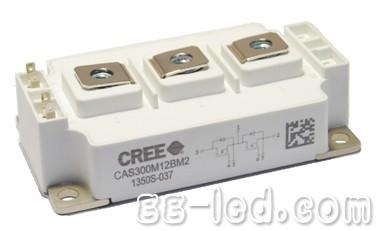 Cree new full silicon carbide 300A/1.2KV half bridge power module
John K. Langelid, R&D Manager at EFD Induction, said: "The outstanding features of Cree's new all-silicon carbide power modules enable us to achieve 99% efficiency and 2.5 times fewer power modules in existing high-frequency induction heating systems. Significant value has been added to help our end customers reduce their acquisition costs."
Cree's new all-silicon carbide 62mm half-bridge module changes the game's switching efficiency and performance, enabling designers to reduce the number of magnetic and cooling components used, resulting in more than twice the power density and lower System costs to help end users reduce acquisition costs. The new modules are ideal for two-level topologies that are simple to design and can operate at higher frequencies without having to pay for silicon-based complex multilevel solutions.
Cree's latest silicon carbide power modules offer a variety of gate drive options and are pin-compatible with standard 62mm half-bridge modules, including IGBT (Insulated Gate Bipolar Transistor) modules rated at 450A or more. This will allow designers to quickly and easily evaluate the superior performance of this module.
Cree Silicon Carbide Power Module and Direct Mounted Gate Driver
Cengiz Balkas, General Manager and Vice President of Cree Power and RF Division, said: "This new 62mm half-bridge power module once again demonstrates Career's commitment to promoting the commercialization of silicon carbide-based power electronics. Because of our large-scale carbonization For the success of silicon power devices, we have now brought multiple features of silicon carbide power modules for applications ranging from 100 kW to 1 MW in induction heating, central solar inverters and active front-end motor drives. The introduction of the module breaks through the balance point of cost performance, which can bring immediate cost savings for these applications."

(This article is contributed by Cree)

Evolis Cleaning Kit,Evolis Primacy Cleaning Kit,Evolis Cleaning Card,Evolis High Trust Cleaning Kit
Miraclean Technology Co., Ltd. , https://www.mrccleanroom.com