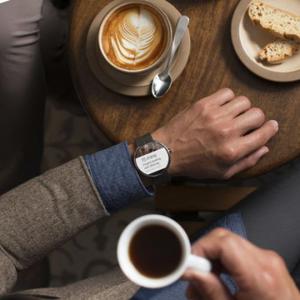 As we all know, wearable devices, especially the smart watch market, have long been a big deal, and many related companies have introduced a variety of smart watches in the name of smart, but due to their own brands, designs, ecosystems and other reasons, until the smart phone Samsung, the market leader, released the Android-based Galaxy Gear smart watch for the first time last year, which really caught the attention of the industry in smart watches.
Unfortunately, Samsung's Galaxy Gear has not been recognized by the market in terms of design or functionality. For example, in terms of design, foreign media is even described as ugly. However, in terms of function and experience, short standby times and poor application have also been criticized. Perhaps the poor performance of the Samsung Galaxy Gear market made both Google and Samsung realize that the Android system (ecosystem) in smartphones cannot be completely copied to wearable devices (smart watches). This is also the main reason why Samsung dared to abandon Google Android on this year's Galaxy Gear2 and Gear 2 Neo and launch the Tizen system with Intel. After all, Samsung's advantage in the Android camp was difficult to copy into smart watches. Instead, it would be better to take the opportunity to develop its own ecosystem in the new wearable device industry. This is based on the Tizen system Galaxy Gear2 and Gear 2 Neo. Soon after the release of the SDK is evident.
For Google, Samsung's use of its own Android ecosystem to become the smart phone industry leader also glimpsed Samsung's strength and ambition. That is, in the future wearable devices may get rid of Google, and even become Google's strongest competitors in the new industrial ecosystem. Therefore, it is particularly necessary to independently develop a set of Android systems for wearable devices (previously mainly smart watches). In this way, the new wearable device market has been prevented from being fragmented in the smartphone market from the beginning (blocking other manufacturers from using Android in smartphones to generate various Android systems for wearable devices). And secondly, Samsung Tizen, who just stuck his head, was killed in the cradle. From the list of partners in the Android Wear release we have Samsung, it is not difficult to guess, Tizen is likely to be as unwilling to take the lead in the smart phone market as Samsung's own Bada. After all, besides Samsung, LG and Motorola have taken the lead in announcing the launch of the Smartwatch G Watch and Moto360 based on the Android Wear system. Although the experience is yet to be considered after its launch, the design is based on the Android Wear system. The watch is far better than Samsung's Tizen-based Galaxy Gear2 and Gear 2 Neo. In this regard, the Samsung smartphone market leader will not turn a blind eye. Since it has lost its preemptive position, it must not lose the opportunity to strike. The so-called Tizen is precious, but Google's Android Wear is more expensive.
Looking back at Apple, the rumors about Apple's release of smart watches have been around for a long time, but Apple has been slow to move. When Samsung was the first to release Galaxy Gear in the industry last year, the industry generally believes that Apple has already lost the opportunity in the future wearable devices, but the market performance of Galaxy Gear and Google's independent Android Wear system have been proven today. The so-called hesitation is precisely where Apple's intelligence is. As the only mobile Internet market (smartphones and tablet computers), Apple, which has a closed ecosystem of hardware and software, thinks that its development strategy in the wearable device market may be far more complicated and lethal than people think. According to the Healthbook application recently exposed, its user interface draws more on the existing Passbook application from the iPhone. The data it can track include heart rate, moisture content, blood pressure, physical activity, nutritional status, blood sugar, sleep, and respiratory rate. Blood oxygen saturation and weight. Among these features, with the iPhone 7S's M7 motion coprocessor, the Healthbook can technically obtain pace, walk miles, and calorie consumption from the iPhone itself. As for other data that cannot be obtained through M7, since the Apple iPhone itself has many third-party health applications, the Healthbook may be the only place where existing third-party iOS healthcare applications set up and store this data. What we want to say here is that Apple's future wearable devices are more to extend the advantages of existing iPhones. This does not rule out the future of Apple in addition to the release of independent wearable devices (smartwatch iWatch), but also hope to use the iPhone to compete with rivals. That is, to directly sell more iPhones (replace the wearables with the iPhone), or to use iWatch to seamlessly integrate with the iPhone (this time, Apple's advantages in the closed hardware-software ecosystem can be fully exploited). Wearable ecosystem (such as Google's Android Wear).
The release of Android Wear heralds the start of yet another round of mobile ecosystem strangleholds following smartphones, and we believe that although Apple has not yet seen any substantial moves, it will rely on the advantages of existing closed ecosystems. It is highly probable that after the strike, Samsung's Tizen will be the first victim of this strangling. By the way, when Google, Apple, and Samsung all have and are about to prepare for this strangling, where did Microsoft go after Google in the smart phone market and now struggling to catch up?
SUPER BRIGHT CREE-3W LED TECHNOLOGY (165 feet beam) - wide variety of white & red light modes + 45° tiltable body makes this headlight brightest and most versatile in its class. SOS and strobe mode will keep you safe in any situation.
WATERPROOF AND DURABLE – why equip yourself with anything but the best and most reliable headlamp? MX20 is built to last. It is rated to IPX5, which means it is protected against splashing or spraying water from any angle.
EXTENDED BATTERY LIFE – More light while using less energy? Sure! Foxelli head flashlight offers up to 45 hours of run-time. 3x AAA ENERGIZER batteries are included, so you can start using your brand-new Led Headlamp right out of the box.
LIGHTWEIGHT AND COMFORTABLE – you won't even notice wearing it. Weighing only 3.2 ounces (with batteries) with easily adjustable, ergonomically designed elastic headband makes this light perfect for long distance runners looking for a comfortable fit.
SUPER LONG BATTERY LIFE – by using leading CREE – 3W technology MX20 provides more light with less power used, resulting in up to 45 hours of run-time. 3 AAA ENERGIZER batteries included. Each head torch has been tested for quality.

Led Headlamp
Super Bright Headlamp,Bright Headlamp,Rechargeable Led Headlight,Bright Led Headlight
Ningbo Wason Lighting Technology Co.,Ltd , https://www.wasonlight.com